Published: August 6, 2019
The Long Island Rail Road which began services in the early 1800's began to reshape New York's landscape making island commutes accessible. Thus, cities began to multiply and Long Island became a summer refuge, bringing a host of many people and attractions. Today, there are an incredible amount of attractions. However, here we explore the top 10 Adventures in Long Island!
1. The Beaches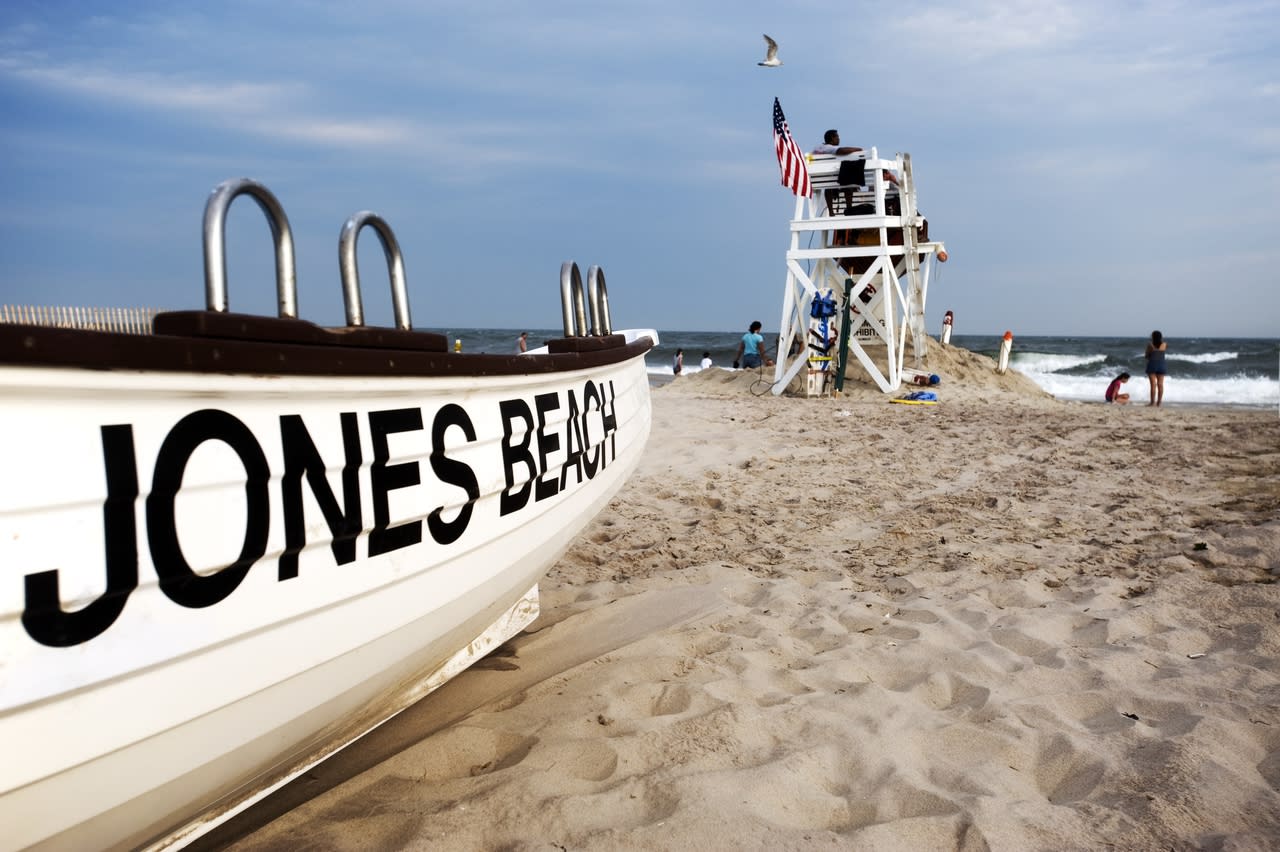 The beaches are a summer refuge where in some areas surfers reside, and others where beach lovers enjoy the sand and the sea. Here are our top beach recommendations:
Jones Beach State Park in Wantagh, New York is one of long island's most renowned beaches with a legendary tale of its founder. From the Jones Beach State Park site, the tale goes:
[The Park] derives its name from Major thomas Jones who as legend has it, was a pirate, who came to Long Island in 1692, then built near Massapequa, the first brick house on Long Island.
Jones had passed away in 1713, and in the early 1900s it became Jones Beach State Park "as a part of the New York State Park System through the dedication from Governor Franklin D. Roosevelt."
Be sure to look up the beach's schedule of events, and real time parking to plan your day here.
Address: 1 Ocean Pkwy, Wantagh, NY 11793
Cooper's Beach is also a top voted beach in Long Island. Known for its waves, beautiful, white sandy beaches, and surrounded by famed mansions - it makes for a perfect beach setting! If you are not a local, be sure to come prepared! Non-residents have a parking fee of up to $50. To make this fare worth it, plan to spend the entire day, and definitely come out early! Early risers get to enjoy an uncrowded beach, and an opportunity to choose a great set up spot.
If $50 is too much, seek out bike and umbrella rentals and pack your backpacks for your beach day. There's food available, and if you're making the day of it, why not the night? Check out their calendar of events as some nights you may enjoy a late night movie!
Address: 268 Meadow Ln, Southampton, NY 11968
East Hampton Main Beach is a pristine beach loved by locals for its stunning scenery, quietness, and local amenities such as restaurants nearby, bathrooms and showers. Lifeguards patrol this beach, and strict rules apply that keep this a beloved beach. If you are visiting, be prepared to pay a hefty $30 parking fee, but plan on spending the day to enjoy the waters, build sand castles and work on your summer tan!
2. ADVENTURELAND
The name says it all!! The Adventureland amusement park originally opened in 1962 and has been a quaint mainstay that now has thirty rides - including the Turbulence Coaster, Drop-n-Twist Tower, Spinning Cars, 3 water slides, and more!
Previous guests rave how this is such a family friendly place, but locals will advise that the prices are heavy on the pocketbooks so be prepared. The park is open on weekends in March-May, open 7 days a week during the summer, then open in weekends September and October. You can pay per ride which are about 3-5 tickets and tickets are $1.50, or pay for a pass which is around $35/person or look into their season or group passes!
Address: 2245 Broadhollow Rd, Farmingdale, NY 11735
3. Long Island Aquarium
The Long Island Aquarium opened in 2000 with the main attraction being a 20,000 gallon coral reef tank - one of the largest all-living coral displays in the Western Hemisphere! The aquarium is always changing with updated habitats with interactive experiences to do with kids of all ages. A fan favorite is the magical butterfly room, and petting rays waterside.
Aquarium tickets run $24 for children ages 3-12, $33 for ages 13-61, seniors tickets are $27 and children 2 and under are free. Some exhibits can be purchased separately, but the amazing part of what the aquarium offers are adventures! Adventures range from a Behind-The-Scenes Tour, a Shark Dive, a close encounter with a sea lion, penguin or bugs, a Mermaid Experience and so much more!
Address: 431 E Main St, Riverhead, NY 11901
Phone: (631) 208-9200 ext. 426
4. Montauk Lighthouse Museum
The Mantauk Lighthouse Museum is New Yorks oldest lighthouse having been built in November of 1792, and in March 2012, the Lighthouse was designated a National Historic Landmark by the Secretary of the Interior. According to their website, the Lighthouse managed "whaling ships, steamers, submarines, fishing and sailing vessels of all kinds passed this tower on Turtle Hill, guided and reassured by its presence."
And now, it still sits magnificently on Montauk Point at 111 feet, providing unforgettable 360 degree views, and providing an unforgettable experience! The hours are seasonal and weather permitting, therefore be sure and call ahead to confirm conditions. Admission ranges from $12 for adults, $8 for seniors, and $5 for children (children must be at least 41" to climb the tower). Parking for locals and seniors is free, however if you are visiting, be prepared to pay around $8 to park in Montauk State Park's lot.
Address: 2000 Montauk Hwy, Montauk, NY 11954
5. Skydive Long Island
Skydiving will give you a birds eye view and an experience like no other adventure that the island offers! Skydive Long Island is located 50 miles east of New York City at the Brookhaven-Calabro Airport in Shirley, NY. Experienced instructors take jumpers 18 years and older up into the skies for a thrilling freefall and parachute ride.
Skydiving is a spendy sport, but one that everyone will tell you is SO worth it. Be prepared to spend $289/person, or take advantage of the online price of $229. If you want to literally see the island, be sure to document the experience with a photo or video option to have the memory forever! Look to spend between $99-$159 depending on the package.
Address: 135 Dawn Dr, Shirley, NY 11967
6. The Adventure Park at Long Island
The Adventures Sports Park is an ecotourism destination experience that offers activities such as zip lining, and rope courses on aerial trails for all skill levels. The sports park is located in the woods of Wheatley Heights and is one of Long Island's hidden gems for a top adventure!
The sports park is a great way to challenge yourself while getting great exercise and a great confidence booster as you muster your way from platform to platform. The park offers a few great events such as Glow in the Park, and Keep it Lit for adults 18 and over. General Admission at-the-door prices are $59 for ages 13+, $49 for 12 and under; or discounts are applied if you book online.
Address: 75 Colonial Springs Rd Gate #3, Wheatley Heights, NY 11798
7. Museums
The heart of aviation is runs deep on Long Island as two well-known aviation museums exists in East Garden City and in East Farmingdale.
Whether you are an aviation buff or not, Cradle of Aviation Museum in East Garden City, NY will engage your sense of wonder as it entertains you with its historical influences in early aviation to space travel. There are plenty of exhibits of model airplanes, interactive stations for kids such as the Junior Jet Club, and a dome theatre to bring aviation to life. Admission to the museum is an affordable $16 for adults and $14 for children under and seniors.
Address: Charles Lindbergh Blvd, Garden City, NY 11530
American Airpower Museum is located in East Farmingdale, NY at the Republic Airport is known for its collection of aviation artifacts that span across the aircraft's factory history. The uniqueness of this museum is that it has a large fleet of operational WWII warbirds. That means - YOU can experience a flight on this active airport! General museum prices are incredibly affordable at $12 for adults, $10 for seniors, $7 for children ages 5-12, and free for children 4 and under. For the adventurous, flights in these historical planes range from $325 - $375.
Address: 1230 New Hwy, Farmingdale, NY 11735
8. Planting Fields Arboretum
The Planting Fields Arboretum is a State Historic Park that opened in 1915 and includes the Coe Hall Historic House Museum. The park is located in Oyster Bay and covers over 400 acres. The stunning picturesque gardens are open daily from 9a-5p between Memorial Day and Labor Day. From their site: "Planting Fields is a magnificent Gold Coast estate from the 1920's, which survives today as a statement about art, architecture, landscape, wealth and luxury." It goes on to say, "Planting Fields is one of only a few surviving estates on Long Island on its original acreage, intact with all its buildings and it's grandly furnished mansion."
Guests can become members to enjoy discounts, or guests can tour the gardens for $8/car. To tour the Coe Hall mansion, guests will be guided on a tour between 11:30a-3:30p for no additional costs.
Address: 1395 Planting Fields Rd, Oyster Bay, NY 11771
9. Bethpage Black Course
The Bethpage Black Course open in Bethpage State Park on Long Island in 1936. This course is open to the public, features 18 advanced holes, and is home to several past PGA championships. It is known as a golf mecca, however guests have called this course challenging. We recommend being on time for your tee time as it is an efficiently run course.
Course fees range from $23 - $43 depending on weekday and weekend rates or playing 9 or 18 holes. Club rentals are about $40 and we'd recommend an electric cart as the course is quite large for a modest $27-$35 depending on the day and length of course you are playing.
Address: 99 Quaker Meeting House Rd, Farmingdale, NY 11735
10. Smith Point Archery
Smith Point Archery is a family run business that has been around for nearly 40 years, and has one of the largest pro shops and ranges in the north east. Smith Point Archery welcomes first timers to experienced archers in their range located in Patchogue, NY. Private or group lessons are available or join one of their leagues to sharpen your skills. Experience the range for a very affordable $12/person and if you need to borrow a bow, it is only an additional $30.
Address: 215 E Main St, Patchogue, NY 11772
Skydive Long Island™ Newsletter
Stay up to date on everything Skydive Long Island™!